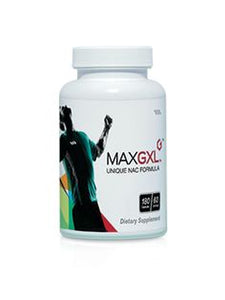 WholeEarthHealth.com
MAXGXL
Regular price
$69.00
$0.00
Unit price
per
WE SELL MAXGXL at WHOLESALE
2020 Limited Time Promo:
We'll show you how to purchase MaxGXL for less than the website price of $69 with NO fees!
Call 1-866-503-7116 now


Finally and very important.
Prices 

shown are in USD's


Glutathione (GSH) is the most important and powerful natural antioxidant. GSH is found in almost every cell of the body. Unlike other antioxidants, GSH is endogenous because our own natural production of glutathione is native to who we are as humans. It is absolutely vital for cell protection and longevity as well as for proper cell function and is, therefore, most critical for establishing and maintaining good health. Glutathione levels are highest in cells of our bodily organs which are most susceptible to toxicity, such as the liver, lungs, kidneys,heart, eyes, brain and skin. Thus, GSH protects against oxidative stress and nitrogen free radicals when produced in excess, and any free radicals created by exposure to radiation from ultraviolet light, x-rays, gamma-rays and cosmic-rays.

Glutathione not only neutralizes health degenerating free radicals and reactive oxygen compounds, but it also maintains exogenous antioxidants such as vitamins C and E in their reduced (active) forms. Through direct conjugation, glutathione detoxifies a great many environmental carcinogens and toxic xenobiotic (foreign) substances. GSH also protects against toxic/carcinogenic pollutants like cigarette smoke, vehicular exhaust fumes, and smoke-stack emissions.

Glutathione is essential for the proper and optimum functioning of the another endogenous antioxidant enzyme called glutathione peroxidase. Our cell membranes are made up of polyunsaturated lipids or fats and are susceptible to damage by the reactive oxygen species (ROS), especially the peroxide radicals. This damage can gravely affect the cell from getting proper nutrients into it or waste material out and if not functioning properly will lead to cellular death. The enzyme, glutathione peroxidase, detoxifies lipid peroxides (reactive by-product from oxidation of lipids by free radicals) and glutathione is a needed co-factor for this enzyme.

Glutathione is needed for the growth, reproduction and differentiation of lymphocytes and is essential for a full functioning immune system. Glutathione also plays an active role in a whole host of metabolic and biochemical reactions, such as DNA synthesis and repair, protein synthesis, prostaglandin synthesis, amino acid transport and enzyme activation. Thus, glutathione plays a fundamental role in maintenance of optimal health. We cannot live without it.

Need a single shipment of 3 bottles or more ??? Save money!
Call us for free USA/Canadian shipping availability. Not available online. Buy below wholesale price. No Autoship ever.
1-866-503-7116 (Toll-Free)
(sales & product support info)





IMPORTANT : For single MAXGXL orders (OR MORE) use the above "Add to Cart" button on this page.
You may also add other wholesale products including MAX Cellgevity once inside the shopping cart

MAXGXL now features a vegetable capsule!

Ready to purchase ?

Simply "add to cart" and check-out easily!

Do you prefer talking to a real human that can assure the safety of your wallet on the internet? Call our office toll-free at 1-866-503-7116 during EST business hours (8:30 - 5:30 EST) and you'll get the BEST possible price.

This is an order desk service for those ready to buy.

Please Note: We only ship directly to the USA, CANADA,
Guam, Puerto Rico and American Samoa,
at this time, at these prices.
- We can also ship to other countries -
Please contact us by email
info@wholeearthhealth.com



Great News ! MAX has 2 new, more powerful Glutathione products .... even more powerful than MaxGXL .... only $75 & $79 ! Those costs can be reduced even more if ordered by telephone TOLL-FREE : 1-866-503-7116